I have such mixed feelings about this book after reading it, and I can't help but admit to a little disappointment despite the fact that I thought it was a pretty decent read. I think that to an extent, this book was a victim of the Hype Train. Good, but not mind-blowingly so.
SOURCE: Illumicrate
TYPE: Hardcover
TITLE: Truthwitch
AUTHOR: Susan Dennard
SERIES: The Witchlands (#1)
PUBLISHER: Tor
PAGES: 400
GENRE: Fantasy, Adventure, Young Adult
RATING: 3/5 Stars
Blurb: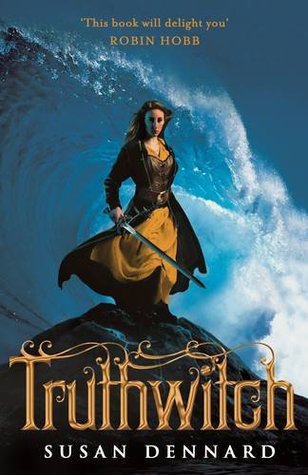 In a continent on the edge of war, two witches hold its fate in their hands.
Young witches Safiya and Iseult have a habit of finding trouble. After clashing with a powerful Guildmaster and his ruthless Bloodwitch bodyguard, the friends are forced to flee their home.
Safi must avoid capture at all costs as she's a rare Truthwitch, able to discern truth from lies. Many would kill for her magic, so Safi must keep it hidden - lest she be used in the struggle between empires. And Iseult's true powers are hidden even from herself.
In a chance encounter at Court, Safi meets Prince Merik and makes him a reluctant ally. However, his help may not slow down the Bloodwitch now hot on the girls' heels. All Safi and Iseult want is their freedom, but danger lies ahead. With war coming, treaties breaking and a magical contagion sweeping the land, the friends will have to fight emperors and mercenaries alike. For some will stop at nothing to get their hands on a Truthwitch.
What I Liked:
Despite my confessed disappointment, there were things about this book I really enjoyed. It was a fast-paced, action-filled adventure that never seemed to get boring. Constant battle scenes (that were well-written), tense politics and continuous twists meant that the plot at least kept me entertained. I appreciate a good pace when reading and this one certainly had one, throwing the reader straight into the action and never really pausing for breath.
I liked that for once, I was reading a book that's main focus was friendship. I read so many Fantasy romances and although there was a hint of that in this one, it didn't overpower the story-line in any way. The two main characters were the best of friends and when they did things like fight together, it was pretty awesome.
What I Disliked:
Here's the thing. I went into this book expecting a gorgeous new Fantasy world to get sucked into, and found that I didn't get it. Dennard didn't really explain an awful lot about the 'Witchlands' history, only choosing to hint at it here and there. I ended up with so many questions! Why is everyone fighting now that the Treaty is ending? How does everyone know about Safi being a Truthwitch? Why do they all want her so badly? She didn't seem to be able to do an awful lot! Where on Earth did that prophecy spring from? And can someone explain the point of the Puppeteer, and what the Bloodwitch has to do with anything? The world-building mostly consisted of changing up the English language, a couple of deities here and there and some different Empires that we didn't see much of.

As much as I liked the idea of the Friendship, I couldn't help but roll my eyes at our special snowflake, Safi. She's the Truthwitch, the one that everyone seems to want when her powers aren't really all that. But of course she's more than that: she's reckless, bad-tempered and very irritating. I actually can't understand why Iseult would want to be around her at all! All she does is get them into terrible situations and then refuse to do anything but what she wants to do, which is usually the stupid thing that gets them in more trouble. No wonder her Uncle kept so much from her, she would definitely have messed things up a lot sooner otherwise.
Overall Conclusion:
I did enjoy this book and there were a lot of great aspects to it. I'm certainly intrigued for Book Two! There were too many flaws for my mind to be blown however, and while it has a lot of potential, I feel that Dennard still has a lot of work to do. There were a lot of staged, cheesy conversations that were there purely for humour which ended up being not all that funny and the 'connection' that formed between Merik and Safi at the ball was basically laughable. With a bit more development, this series could be great and it's certainly not the worst Fantasy I've read. I hope to see more from the next book, but I fully intend to give this series another chance to wow me.