Though this isn't the most Christmassy of books, it ended up being the one I read over Christmas! I'm glad it was though, I thoroughly enjoyed it and am relieved that I finally managed to get through this book! I'll be entering it into the 2014 'Key Words' Challenge as the word 'Fire' is in the title, and I'll also use it as an extra 'Monthly Motif' entry. Why not?
SOURCE: Bought
TYPE: Paperback
TITLE: Catching Fire
AUTHOR: Suzanne Collins
SERIES: The Hunger Games (#2)
PUBLISHER: Scholastic
PAGES: 472
GENRE: Romance, Dystopian, Young Adult,
RATING: 4.5/5 Stars
Blurb: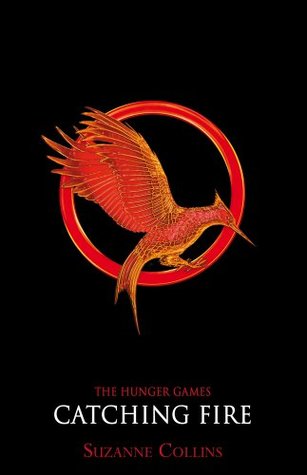 Against all odds, Katniss Everdeen and Peeta Mellark are still alive. Katniss should be relieved, but now there are whispers of a rebellion against the Capitol - a rebellion that Katniss and Peeta may have helped create.
As the nation watches Katniss and Peeta, the stakes are higher than ever. One false move and the consequences will be unimaginable.
What I Liked:
In my last review I said I felt like this book was aimed at a slightly younger audience than myself, but I didn't get that feeling at all with this one! From start to finish, I was hooked: totally shocked and horrified as the Capitol exerted it's power over the Districts more and more. The language, themes and story just felt more mature this time around and it was nice to see Katniss growing up a bit.

Speaking of Katniss, Suzanne Collins has such a talent for character writing! I remembered each and every one, despite the fact that I read the first book such a long time ago. Not only that, but the new characters made an impression on me just as easily. I felt like Collins had taken the time to develop her characters too. As I said, Katniss grew up and Peeta really came into his own here!

The world-building had much improved from the first book (and it was fantastic then)! I feel that at this point, Collins really knows what she is doing and feels comfortable explaining the ins and outs of Panem's society, making it a believable world to read! The technology was interesting, the politics very intriguing and I just love the imagination that went into it all!
What I Disliked:
I'm really not a huge fan of love triangles and I just can't get my head around this whole Katniss/Peeta/Gale thing. I have a soft spot for Peeta so of course I'm rooting for him all the way but the constant 'Who should I choose?' thing started to wear thin. I guess it adds something extra to the story but I hope it doesn't get so prominent that it gets in the way of the plot-line!
Overall Conclusion:
I loved the first book, but I loved the second one even more! Everything just felt a teensy bit better. Characters were well-written, I loved that the plot really emphasised the consequences of Katniss' actions in 'The Hunger Games' rather than let her get away with it. The end cliffhanger left me thirsty for more and I didn't get bored for even a second! The love triangle thing is a pretty minor dislike at the moment but I really want to get hold of 'Mockingjay' so that I can read more and make sure it doesn't become a major issue.