I love the Studio Ghibli adaption of this book. It stands to reason then that I needed to read the original story and I am so glad I did because I really enjoyed it! Being a book that has been adapted into a movie, 'Howl's Moving Castle' fits into not one but two challenge categories! The first is of course the Book To Movie challenge (for obvious reasons). The second is January's Monthly Motif, 'Book To Movie Or Audio'.
SOURCE: Bought
TYPE: E-Read
TITLE: Howl's Moving Castle
AUTHOR: Diana Wynne Jones
SERIES: Howl's Moving Castle (#1)
PUBLISHER: Hodder & Stoughton
PAGES: 329
GENRE: Fantasy, Adventure, Middle Grade, Romance
RATING: 3.5/5 Stars
Blurb: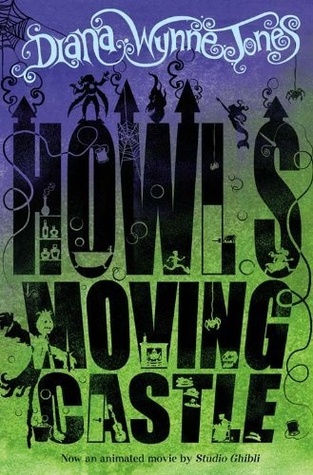 In the land of Ingary, where seven league boots and cloaks of invisibility do exist, Sophie Hatter catches the unwelcome attention of the Witch of the Waste and is put under a spell.
Deciding she has nothing more to lose she makes her way to the moving castle that hovers on the hills above Market Chipping. But the castle belongs to the dreaded Wizard Howl whose appetite, they say, is satisfied only by the souls of young girls… There she meets Michael, Howl's apprentice, and Calcifer the Fire Demon, with whom she agrees a pact.
But Sophie isn't the only one under a curse – her entanglements with Calcifer, Howl, and Michael, and her quest to break her curse is both gripping – and 'howlingly' funny!
What I Liked:
I'll start with the characters because they were my favourite aspect of this book. Jones injected so much personality into them that they were actually the most interesting characters I've had the pleasure of reading for a while. Sophie was a strong heroine, and I really enjoyed watching her grow from being resigned to a life of doing what other people want, to being strong-minded, willful, stubborn and even a bit bossy at times. Howl was also a fantastically flamboyant character who I didn't know whether to love or scream at but he was definitely fun to read. I liked the attention that Michael and Calcifer got too, and was glad that they weren't pushed into being unimportant side characters.

Jones' writing is witty, fun and fantastical. There is so much magic to the plot and style of this book, and a heck of a lot of imagination went into the land of Ingary. Each setting made me smile: I loved Howl's castle, Market Chipping, Porthaven, the meadow, all of it! It was easy too to imagine what each place looked like because Jones wrote such vivid descriptions.
What I Disliked:
The pacing, at times, felt a little off. There were a few moments when it felt like everything was happening too fast, and everyone was rushing around and I just couldn't keep up with who was talking to who and why they were doing something totally different at the same time. Some sentences had to be reread multiple times to completely understand what was going on.

Though I liked the world-building, placing it in a time period was very difficult. This might have been intentional, but I felt like the Wales portion of the book was a little unnecessary to the plot-line and I couldn't understand what purpose it served at all. The few events that happened there could have taken place in other places. Not to mention that the characters met their were probably the dullest and served no real purpose either, other than to be kind of rude and disapproving. It completely threw me off time frame wise if anything!
Overall Conclusion:
This is a really great book that can be read by audiences both young and old! I loved the magical concept, the fairy tale-esque reference to the eldest,middle and youngest child, and their respective lot in life. There's some fantastic character work from Jones and it's what totally made this book. It could use a little work on some plot points and maybe others could be taken out, but the plot generally was pretty good and I liked the world building a lot!