This month has gone a little better than I expected it to, especially since it took me quite a while to read 'A Storm Of Swords: Steel & Snow', but I've made it and I've managed a fair few books this month (good and bad). I managed five of the seven planned books (including my crossover read) and all things considered, I think that's pretty good!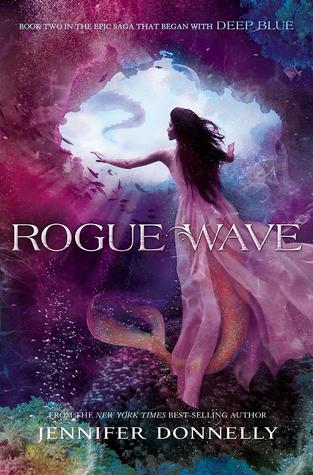 'The Shock Of The Fall'; Nathan Filer. An awesome start to this month's reading! This book had a gripping story-line, great factual basis and very memorable characters. I adored the way it was put together as well, in almost a scrapbook like fashion. Definitely well worth a read, especially if the subject of Mental Health is of interest to you. 5/5 stars.
'Rogue Wave'; Jennifer Donnelly. This was a pretty good follow up to the first book in the series, 'Deep Blue'. It contained some really strong character development as well as some more of the romance side of things, while making sure it didn't get in the way. I wouldn't say the plot wowed me though, and I would have liked to have seen the six mermaids united and strong rather than apart. Prepare for some massive info-dumping with this one too. 3.5/5 stars.
'Will Grayson, Will Grayson'; John Green & David Levithan. I read this in honour of LGBT month and I really hoped to enjoy it. Unfortunately, despite some pretty good writing, I just couldn't get into it. I didn't like any of the characters all that much and the ending was totally cheesy, to the point of being ridiculous and seeming to have no real point whatsoever. 2/5 stars.
'A Storm Of Swords: Steel & Snow'; George R.R. Martin. This man never disappoints me. Of the series so far, this felt like it had the least going on. This was because (I think) it's actually only half of the third book. Despite the lack of massive plot twists, the best bits lay in the details. There was some amazing character development in this book, alongside Martin's usual knack for vivid, amazing world-building. 4/5 stars.
'The Girl Who Chased The Moon'; Sarah Addison Allen. I came into this read not quite knowing what to expect and actually thinking that I would finish before February was up. But I absolutely devoured this book. I was totally in the mood for a gooey, light-hearted book with a simple, light plot-line and interesting characters. I got that, though I deducted half a star because the two interweaving story-lines didn't quite mesh at times and I felt there could have been a little more romance development. 4/5 stars.
This month I have read two physical books:
- 'The Shock Of The Fall'
- 'A Storm Of Swords: Steel & Snow'
- 'Will Grayson, Will Grayson'
I'm pretty pleased with my second month of reading and look forward to seeing if March can be even better! My Bookish Bingo card is also filling up nicely, and here's my progress update!
Forgotten Fridays Pick: Howl's Moving Castle; Diana Wynne Jones.
2015 Debut: Rogue Wave; Jennifer Donnelly.
White Cover: The Mistletoe Bride & Other Haunting Tales.
LGBTQIA: Will Grayson, Will Grayson; John Green & David Levithan.
Mystery Or Thriller: The Moment Collector; Jodi Lynn Anderson.
Freebie: All The Birds, Singing; Evie Wyld.
Over 400 Pages: A Storm Of Swords: Steel & Snow; George R.R. Martin.
Mental Illness: The Shock Of The Fall; Nathan Filer.
Romance: The Girl Who Chased The Moon; Sarah Addison Allen.
2014 Release You Missed: Dreams Of Gods & Monsters; Laini Taylor.
Based On Mythology: A Song For Ella Grey; David Almond.