I am a huge lover of Fantasy, but there are some definite staples that I have missed over the years.
1) 'The Fellowship Of The Ring'; J.R.R. Tolkien.
So we all know that this book (and indeed, this series) is considered one of the greatest Fantasy Books of all time. And yet, despite calling myself a Fantasy fan, I still haven't read it! I haven't even read 'The Hobbit'. It's a shame because I really enjoyed the movies (yes I watched the films first, please don't be angry) so I think I would really like the books! I'd also love to get into some of Tolkien's other works too!
2) 'The Final Empire'; Brandon Sanderson.
Brandon Sanderson is a massively popular Fantasy fan and yet, I've never read anything by him! I was originally going to put 'Elantris' here but as this book has a lot more in the series and is the one that my friend both recommended and bought for me, it seems best to name this one instead. This is arguably one of his most popular books too so it seems like the right place to start in order to get into his work!
3) 'Assassin's Apprentice'; Robin Hobb.
Robin Hobb is a huge name in Fantasy! I see him everywhere I go and even bought his entire 'Tawny Man' Trilogy for £3 in a charity shop while in Wales. I would really like to read this one (and the two that follow) first however, because I like to read things in order if I can. I was also approved last year for the first book of 'The Fitz & The Fool' series so I really need to get on and read some of Hobb's work ASAP!
4) 'A Storm Of Swords: Steel & Snow'; George R.R. Martin.
What I mean here really is, why have I not read this entire series so far yet? I am so in love with the whole concept of 'Game Of Thrones', the books are phenomenal (as is the TV series) and Mat and I just finished playing the first episode of the Telltale Game (trying to please Cersei was the most stressful experience of my life). I just want to read all of it ASAP. I can't wait to get onto the 'Steel & Snow' volume of this book this month!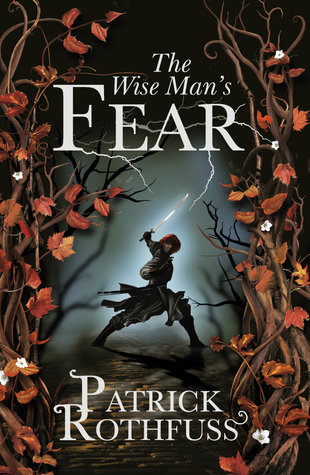 5) 'The Wise Man's Fear'; Patrick Rothfuss.
I mention this book a lot because I really need to read it. When I read 'The Name Of The Wind', I found it to be one of the most expertly crafted Fantasy novels that I had read in a long time. The writing was amazing, the characters so complex and well-written and I loved the structure of it too. I so badly want to read the next in the series, as well as 'The Slow Regard Of Silent Things'!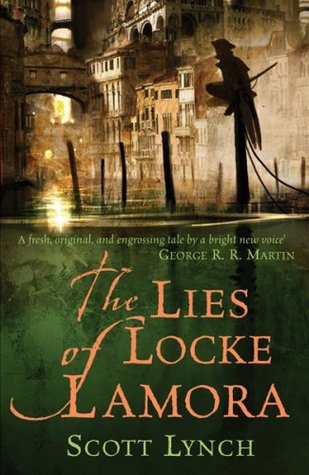 6) 'The Lies Of Locke Lamora'; Scott Lynch.
This book just has such an interesting synopsis and I would love to get my hands on it. I've heard so much about the 'Gentleman Bastard' series and a lot of people have recommended it to me! Rogues and Thieves are always my favourite character archetypes to read about, especially if there's a whole band of them! I hope I can read this soon!
7) 'Inheritance'; Christopher Paolini.
This is the last book in the 'Inheritance' Quadrilogy and I still haven't read it, despite buying it on the day it was released! Frankly, I'm ashamed and would like to rectify this as soon as possible because it was such a good series that I really loved when I was a teenager! If anyone hasn't read it, I strongly recommend it for excellent world-building!
8) 'Magic Study'; Maria V. Snyder.
I loved 'Poison Study' so much! Assassins, intrigue, politics, mystery, magic, romance, it was all there! I still can't understand why I didn't immediately start the next book in the series because I'll bet it's just as amazing as the first one was. And it left me on such a cliffhanger too! I hope to get round to this book as soon as possible, it looks amazing!
9) 'The Ambassador's Mission'; Trudi Canavan.
I read 'The Black Magician' trilogy quite a while back, when I was in my mid-teens. I absolutely loved it! Not many people in the Blogosphere seem to have read it (that I follow anyway) but it really is a well-constructed story-line, likeable characters and pretty good world-building. This is the first book in a new series that is set in the same world and I also received this for my birthday years ago, only to not read it! Oops!
10) 'Bloodhound'; Tamora Pierce.
I rave about this amazing Fantasy author so much but I actually haven't read all of her books. Having read the first four series set in Tortall, I couldn't wait to fully delve into the 'Beka Cooper' series which was also set in the same place some years later. I actually did read and enjoy 'Terrier', and waited eagerly for 'Bloodhound' to come out! Unfortunately, when it did I never found time to buy or read it and it has remained on the 'one day I will get round to that' place in my brain for a while now.