I got through this book pretty quickly...it is quite short. I'm a little disappointed in it, especially as I gave Book 1 such a high rating in comparison. Still, there were a few things I liked about it and I do want to find out what happens next. Also I'm entering this for the Monthly Motif Challenge!
SOURCE: Bought
TYPE: Paperback
TITLE: Stealing Phoenix
AUTHOR: Joss Stirling
SERIES: Benedicts (#2)
PUBLISHER: Oxford University Press
PAGES: 266
GENRE: Urban Fantasy, Middle Grade, Paranormal Romance
RATING: 2/5 Stars
Blurb: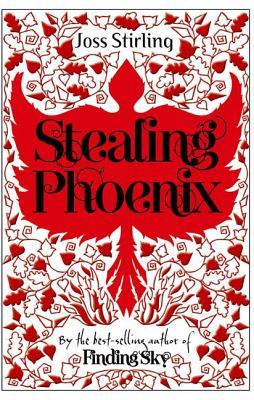 Phoenix belongs to the Community - a gang of thieves with paranormal powers. Yves Benedict - an American student visiting London - is her mark. But Yves turns out to be more than just a target. He is her destiny. Her soul mate. But the Community owns Phoenix's past and it wants her future too. Can Phoenix save the boy she loves... and herself?
What I Liked:
I think the best thing about this book is probably it's plot progression. I remember thinking this in book one too, but Stirling did a great job at keeping a good pace from start to finish with this one. There were a couple of moments that I thought weren't really necessary to the plot, but as it's definitely aimed at a Middle Grade audience, I'll let them slide. The story itself was full of twists and turns and I liked the climax of the story best of all.

While Phoenix got on my nerves a bit (I'll get to that) I adored Yves. In fact I liked him a lot more than I remember liking Zed in 'Finding Sky'. He's pretty much the exact opposite in terms of personality and I liked that he seemed to have his head screwed on, not to mention that he was super adorable!
What I Disliked:
I'll start with Phoenix herself because although I didn't hate her, she did get on my nerves quite a bit. Her trust issues just really got in the way for me. I understand that she has had a tough life and that's going to have a damaging effect on a person, but couldn't she just stop stressing for one second? And the 'Wicked' incident just really got to me too because the similarities between Elphaba and Phoenix are really not there at all. Phoenix just got stupidly angry for no reason. Talking of bad characterisation, let's look at the villains of the story too. One minute they were super dangerous and I was actually pretty scared of what they could do...the next? They were about as frightening as Laurel & Hardy. The stupidity of some of their actions and it's slapstick styling made me cringe. Consistency please!

I actually live in the area of London where a good portion of this book is set and I noticed because of this that Stirling really didn't do a good job with 'being British'. For example no one who lives in London would be calling Queen Mary University 'Queen Mary College'. So why did Phoenix? I'm aware that some of the characters are American but Phoenix is supposed to be British so I didn't understand why she spoke in a way found only in the US. I have since found out that Stirling herself is British? How on Earth did this happen? Throwing in the use of some British Words and calling people nitwits is simply not how these characters would be speaking with each other, I'm sorry. I had the whole 'people don't really talk like that' issue with 'Finding Sky' too.
Overall Conclusion:
I'm pretty disappointed actually. I've pushed the first book in this series, 'Finding Sky' on so many people as a better version of Twilight (stronger characters, less stereotypes at school, less sinister romance). Now? I'm not so sure. It looks like each and every story in this series is going to follow a very similar plot-line and while I'm half intrigued about which Benedict brother will find his Soul Mate next, just how long can this go on? The covers are so pretty though and I think that a younger audience than myself would appreciate these books greatly.