December did not turn out to be the amazing reading month I had hoped for. I managed only 4 of the 7 planned reads that I had for this month but I'm not hugely disappointed as I normally would be. It's important, I think, not to pressure myself into reading too much and I promise to get better at time management so that I can do everything I want to do properly next year. For now though, here's how I did!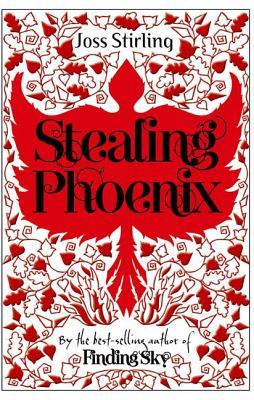 'Stealing Phoenix'; Joss Stirling. This book actually turned out to be a bit of a disappointment for me, especially considering the fact that I loved 'Finding Sky' so much. The plot progression I liked a lot and Yves was an adorable Romantic lead! Phoenix, the main character I didn't like so much I'm afraid, some parts of the plot felt unnecessary. I wasn't entirely convinced by the villains of the story either though I felt they had a lot of potential. With a bit of padding it could have been a lot better. 2/5 Stars.
'Red Glove'; Holly Black. The second in the series and I really liked it a lot. Holly Black's wonderful imagination bowled me over again, the twists and turns really kept me mesmerised by the stories and I think that the characters felt much more developed than in 'White Cat'. There were a couple of Black's infamous 'blink and you miss it' moments and I really found the ending disappointing. Still, there was too much goodness in this story to ignore. 4/5 Stars.
'A Feast For Crows'; George R.R. Martin. I always find myself impressed by this series and this book was no exception. Martin might be a little slow when it comes to writing books, but I don't mind the wait so much if it means the quality of his writing is of this standard every time. He does such a cracking job! I liked hearing from some of the lesser characters in this one, it gave the entire plot a much wider perspective and gave a lot of insight into what was going on in other parts of Martin's world. 4.5/5 Stars.
'One Flew Over The Cuckoo's Nest'; Ken Kesey. I finished this book just in the nick of time, and I'm so glad that I did! It proved to be a worthwhile read! I loved Kesey's characterisation and the book's hero and villain against each other. His imagery was superb also, though at times the Narrator became a bit unreliable due to frequent hallucinations and nightmares. I didn't like the misogynistic and racist undertones either and that lowered my overall rating in the end. 3/5 Stars.
- One Flew Over The Cuckoo's Nest
I'm kind of disappointed, but I've been really good up until now so it's fine, right?
For the Prequel/Sequel challenge I gained another 6 points, bringing the year's total to 46 points. Maybe not as high as I had hoped but it shows great progress in my series reading and I aim to continue making progress like this!
- One Flew Over The Cuckoo's Nest
And now my first Bookish Bingo post for this card and my Story Sprites Wrap-Up!
Multi-POV: A Feast For Crows; George R.R. Martin.
Fantasy: Stealing Phoenix; Joss Stirling.
A Friend's Fave: Red Glove; Holly Black.
White Cover: One Flew Over The Cuckoo's Nest; Ken Kesey.
Middle Grade Fantasy Lover: Stealing Phoenix; Joss Stirling.
A Character Death: More Than This; Patrick Ness.
Male MC: Horns; Joe Hill.
POC MC: A Thousand Nights; E.K. Johnston.
Witches Or Wizards: Bitter Greens; Kate Forsyth.
A Classic Novel: One Flew Over The Cuckoo's Nest; Ken Kesey.
Photograph On The Cover: Miss Peregrine's Home For Peculiar Children; Ransom Riggs.
A Book With A Mountain: The Historian; Elizabeth Kostova.
A Halloween Read: Mary Hades; Sarah Dalton.
Set In The Southern USA: Vengeance Road; Erin Bowman.
Character Centred Novel: The Sin Eater's Daughter; Melinda Salisbury.
Set At A Boarding School: Red Glove; Holly Black.
Book With A Fictional Language: A Feast For Crows; George R.R. Martin.
Supernatural Race In Modern Times: The Other Lamb; Katie Young.
A Character Who Is a Musician: The Butterfly & The Violin; Kristy Cambron.