After hearing so much about this book, I got so excited when I was granted access to a Netgalley copy. I have very mixed experiences with Contemporary YA but often I fall in love with those that focus more on Friendship, Sexuality or Mental Illness: things other than love that I strongly believe that young people need to learn about. This one had two out f three and I'm looking forward to letting you guys know just how well Barnard wrote this book. I'm also entering this into the 'Monthly Motif' challenge.
SOURCE: Netgalley
TYPE: E-Read
TITLE: Beautiful Broken Things
AUTHOR: Sara Barnard
SERIES: --
PUBLISHER: Macmillan's Children's Books
PAGES: 322
GENRE: Contemporary, Young Adult, Fiction
RATING: 5/5 Stars
Blurb: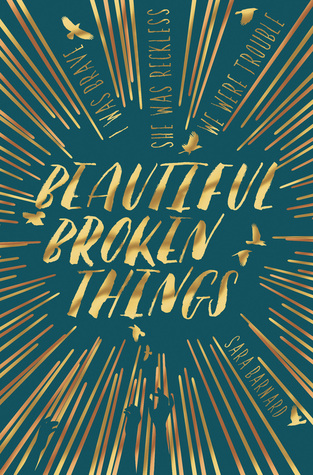 Best friends Caddy and Rosie are inseparable. Their differences have brought them closer, but as she turns sixteen Caddy begins to wish she could be a bit more like Rosie – confident, funny and interesting. Then Suzanne comes into their lives: beautiful, damaged, exciting and mysterious, and things get a whole lot more complicated.
As Suzanne's past is revealed and her present begins to unravel, Caddy begins to see how much fun a little trouble can be. But the course of both friendship and recovery is rougher than either girl realises, and Caddy is about to learn that downward spirals have a momentum of their own.
What I Liked:
One of the things that really impressed me about this book is the integration of Social Media into the story-line. I see it so little in Contemporary YA, which is bizarre considering that it's such a huge thing in the lives of young people nowadays. Not all arguments and huge dramas happen face to face, some are online or via text. I just think that Barnard really made a great use of this and I was impressed by how authentic the social media conversations felt.
The topics covered in this beautifully written book are sensitive and probably difficult to write. Barnard handled them sensitively and authentically. I've read books where conversations don't quite feel real or authors don't handle the subject matter carefully. This was not one of those books. In a way, she was teaching her target audience about both mental illness, and the value of friendship. I loved that there was no real romantic story-line and that adults played a big part in the story too. The idea of teens running around trying to be the heroes of their personal dramas without any kind of adult influence is a ridiculous one, and luckily Barnard was well aware of the importance of grown-ups in a story about young people.
The characters were very complex and that was so important. I just loved watching them develop! I didn't like Caddy so much to begin with (more on that later) but as the book progressed I began to realise that she represents a huge portion of society that has the best of intentions, but are so ignorant and wrapped in their own perceived problems that they can't possibly handle those looking after those that are in real trouble. Through Caddy we learn that we can't make everything better and that it's okay to step back and say 'I'm not equipped to help you. You need professional help.' I think it's important that even though we have good intentions, trying to help for selfish reasons may damage a person more than make things better.
What I Disliked:
I had heard from trusted Book Bloggers that this was a novel about friendship and handling mental illness, which of course it turned out to be. I have to say, the beginning didn't grab me in the way I wanted it to. The mention of boys made me sick with worry that this would be 'just another love story' and Caddy's personality was pretty unbearable to begin with. Her petty jealousy and desperation to make her life 'less boring' made me raise my eyebrows so much that I lost them in my hair for quite a while. This of course did make the character development so much clearer later on, when she learns that having a messed up life is not glamorous in any way, shape or form. It was necessary in order for her character to learn from the book's events, but boy was it irritating.
Overall Conclusion:
I loved this book. It just completely got teenagers and how they think. While I didn't love Caddy in the beginning, I could relate to her Girls School issues (it wasn't private, but I attended a Girls Only school) and social anxiety when it came to parties, being drunk and disobeying parents. Barnard handled her subject matter well, being careful with it but not afraid of it. All three girls played a really important part in the story (no one ended up being left out) and I loved watching them all develop as time went on. Barnard gave people of Caddy, Rosie and Suzanne's age group a voice that was convincing as it incorporated all of the insecurities found in teenagers alongside their new-found confidence as they approach maturity. The incorporation of social media was clever and I liked that Adult's weren't the definitive bad guy or mysteriously absent as they so often are in books aimed for teens. I can't wait to read more of this lady's work!