I finished this book as promised and my goodness, I just feel so happy. It has been such a long time since I have read a book and loved it this much! It took me a while to get round to it, but my sister kept nagging and nagging me to start it and I learnt from this what I always learn when that happens. Listen to my sister. This book was so amazing, I'm typing very fast and very excitedly, so I'll get onto the review before either I or my laptop explodes! Seeing as it contains characters that could be considered warriors and rebels, I'll include it as a Monthly Motif entry.
SOURCE: Bought
TYPE: Paperback
TITLE: Divergent
AUTHOR: Veronica Roth
SERIES: Divergent (#1)
PUBLISHER: Harper Collins Children's Books
PAGES: 489
GENRE: Young Adult, Dystopian, Romance, Adventure
RATING: 4/5 Stars
Blurb: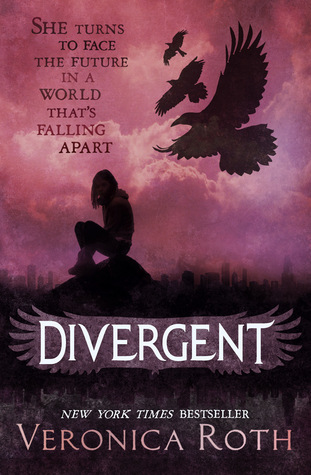 Sixteen-year-old Tris is forced to make a terrible choice. In a divided society where everyone must conform, Tris does not fit.
So she ventures out alone, determined to discover where she truly belongs. Shocked by her brutal new life, Tris can trust no one. And yet she is drawn to a boy who seems to both threaten and protect her.
The hardest choice lies ahead.
What I Liked:
The characters were probably my favourite part of this book and so I'll start there. Why? Because they weren't too perfect. Tris in particular fits into this category. Sometimes when you read a book the young heroine (or hero) is just too selfless, too brave, too heroic. Tris was different to other main characters I have read before because at times she could be cruel and selfish. The whole point of the book was that she wasn't quite selfless enough. She wasn't unlikeable though, she was human. And I felt it added another layer to her that I enjoyed reading.

The world that Veronica Roth wrote was both original and creative. I could see it all in my minds eye which I think is important when reading. I liked the imagination that went into it and I thought the plot itself was pretty distinctive. There were plenty of plot twists, the pacing was just how I liked it and it did go in directions that I didn't expect which was a good thing.

Let's talk about the romance. I really do not like insta-love and I think I was most terrified that this book would suffer from that. But it didn't! The romance build-up was exactly how I liked it. The chemistry was definitely there but they didn't fall in love, or have a confusing first kiss too quickly. They were cautious friends first and I really enjoyed the build-up.
What I Disliked:
I really wanted to see a little more of some of the characters. In particular, Tris' parents. I felt like there was so much more to explore, how hard it was for her to leave them and her mother's past in particular. They felt barely touched upon but I understood the need to focus on other aspects of the book too.
Overall Conclusion:
What a great start to July, this book was fantastic! I loved the plot premise, the pacing, the constant action and the characters we met. The main character was well-written and the romance was really well done. Perhaps there could have been a tiny bit more added to some elements of the book but I thought this was an amazing start to a promising series and I can't wait to get onto 'Insurgent'.