You know that feeling you get when you've just read an extremely good book, you're stuck in it's world and feel a little bittersweet because you have been racing through it only to realise you didn't want it to end? Yeah. That. I read this book for a challenge too, it falls under this month's 'Monthly Motif'.
SOURCE: Bought
TYPE: Paperback
TITLE: Poison Study
AUTHOR: Maria V. Snyder
SERIES: Study (#1)
PUBLISHER: Mira Books
PAGES: 409
GENRE: Fantasy, Young Adult, Romance
RATING: 5/5 Stars
Blurb: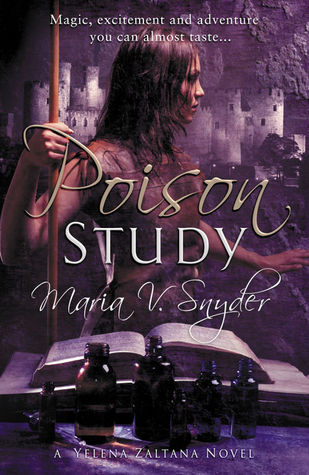 Yelena has a choice – be executed for murder, or become food taster to the Commander of Ixia. She leaps at the chance for survival, but her relief may be short-lived.
Life in the palace is full of hazards and secrets. Wily and smart, Yelena must learn to identify poisons before they kill her, recognise whom she can trust and how to spy on those she can't. And who is the mysterious Southern sorceress who can reach into her head?
When Yelena realises she has extraordinary powers of her own, she faces a whole new problem, for using magic in Ixia is punishable by death...
What I Liked:
Where on earth do I start? The plot-line was astoundingly good. I loved the pacing, the twists and turns, and I found that it definitely kept me on my toes and hungry for more. I loved the mystery behind it, the constant sense of danger and I found myself totally hooked on this book. Definitely one of the best fantasies I've read in a long time. I really hope to get hold of Book Two soon!

The characters were phenomenal. Yelena is an extremely strong main character and if I could redo last week's Top Ten Tuesday, she would certainly be coming to my Desert Island! Her back-story is harrowing and her constant strength was truly admirable, yet she wasn't heartless or unlikeable. She was pretty funny at times and I grew very attached to her. She was also surrounded by great side characters that each brought something new and necessary to the book. I loved Valek, which I think most people who have read this would agree is a given. Ari and Janco too, I thought were side-splittingly funny and I grew very attached to them.

The romance is getting it's own point, it was so good! The build-up was perfect, and I enjoyed all conversations between Yelena and Valek, even when they were purely professional or general chit-chat. I don't think I've felt so strongly about an in book romance for quite some time and yet, it didn't impede on the story's progress in the slightest. I would happily have read a never-ending book about these two, I adored watching their obvious attraction to each other blossom and danced for joy when they did get their first real moment.

I haven't praised an author for giving me a setting I can truly believe in for quite some time, and this one was worth waiting for! Snyder writes so well,and her descriptions are creative and really spark the imagination. I can't wait to be pulled into Yelena's world again.
What I Disliked:
Do I have to put something here? No, I suppose not and yet I usually try to because it helps me organise my thoughts on the book properly. I'm genuinely struggling with this one though, a struggle I haven't encountered in a long time. I'm going to say that I would have loved to have seen a few more Yelena and Valek moments (I can't get enough of these two) and the ending made me a bit grumpy because of how things are left in their romantic situation. I won't spoil anything, but I want to read the next book for more of them and I really hope I get that!
Overall Conclusion:
I really just want to write the word 'Wow' and nothing else. It was a fantastic read and thoroughly deserving of it's five star rating. The plot, the setting, the descriptions, the characters, the romance, the magic etc. It's all here and I highly recommend this book to anyone and everyone! You won't regret this read for a single second.