I did it! I read all three of these books and now I'm all caught up and waiting for the fourth just like everybody else! Phew! It was quite a long read too, but I managed to steam through it at quite the speed because it was that good. Okay, here we go.
SOURCE: Bought
TYPE: Paperback
TITLE: Cress
AUTHOR: Marissa Meyer
SERIES: The Lunar Chronicles (#3)
PUBLISHER: Puffin
PAGES: 550
GENRE: Young Adult, Fantasy, Science Fiction, Romance, Retelling
RATING: 5/5 Stars
Blurb: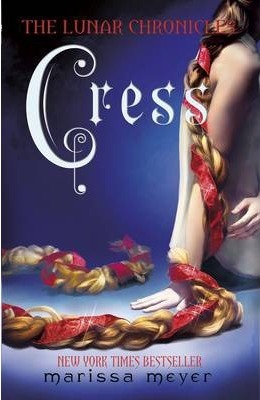 In this third book in the Lunar Chronicles, Cinder and Captain Thorne are fugitives on the run, now with Scarlet and Wolf in tow. Together, they're plotting to overthrow Queen Levana and her army.
Their best hope lies with Cress, a girl imprisoned on a satellite since childhood who's only ever had her netscreens as company. All that screen time has made Cress an excellent hacker. Unfortunately, she's just received orders from Levana to track down Cinder and her handsome accomplice.
When a daring rescue of Cress goes awry, the group is separated. Cress finally has her freedom, but it comes at a high price. Meanwhile, Queen Levana will let nothing prevent her marriage to Emperor Kai. Cress, Scarlet, and Cinder may not have signed up to save the world, but they may be the only hope the world has.
What I Liked:
As with the previous books, this is the easiest section in the world to fill out. The plot, to begin with, is just as captivating as within it's predecessors. I was hooked from start to finish, and at times almost had a full on tantrum because life got in the way of me just sitting down and reading this in one sitting (though that is what I ended up doing with the last 300 pages or so). There were so many twists and turns that kept me interested, and I loved the multiple viewpoints in this one too. Meyer's writing is so good that it actually had me physically and verbally reacting to every plot point, and I am not the kind of person to do that on a regular basis.

The world-building continues to be very impressive in this third installment. As well as revisiting New Beijing, Meyer took the adventure to a couple of new places: Africa (which was one of my favourite segments of the book) and Lunar (finally!!!). I was very impressed with the way that technology was incorporated, and how the fairy-tales tie in with the actual plot-line.

We get to see some more character development in this book, as well as some new characters. To start with, the segments with Thorne and Cress were by far my favourite parts of the book. I felt like Thorne was a pretty shallow character in Scarlet (though definitely likeable) but Meyer took this story in a direction that I didn't expect and I loved reading a little bit of vulnerability in him. Meyer also adds a little bit of padding to some other minor characters, like Erland, Torin and Sybil Mara. It made for very interesting reading. The titular character Cress was very impressive, and I loved that she was so different from Cinder and Scarlet. In fact I think we could be soul-mates. Also, I'll be interested to see where Meyer takes Jacin and Winter, they're intriguing characters thus far!
What I Disliked:
I guess I did actually have a dislike in this book. After reading Scarlet, I said I really wanted to read some more interaction between Cinder, Thorne, Scarlet and Wolf. Unfortunately, Meyer decided to split them up at the beginning of the book, so I didn't get my wish granted! Nevertheless, what she wrote in it's place was just too fantastic to ignore and I look forward to seeing them reunited again!
Overall Conclusion:
What an amazing series this is turning out to be. I'm so glad that this third book didn't disappoint me in any way! The characters, plot and world-building are all phenomenal and I can't complain about any of it. The book was a little longer than the others, but I was glad about this because Meyer used those pages well. I saw an absolute ton of character development, and now Cress and Thorne's relationship is my new favourite thing. I can't wait to see where it goes in 'Winter'. Please can November 10th come soon?