These last few days have been a bit of a reading whirlwind for me! I finished 'Paper Towns' last night and here is the promised review before I head to work. I will be entering this one into a challenge as well, it comes under June's Monthly Motif, which is 'A Long Journey'.
SOURCE: Borrowed
TYPE: Paperback
TITLE: Paper Towns
AUTHOR: John Green
SERIES: --
PUBLISHER: Bloomsbury
PAGES: 305
GENRE: Young Adult, Contemporary, Mystery, Romance
RATING: 3.5/5 Stars
Blurb: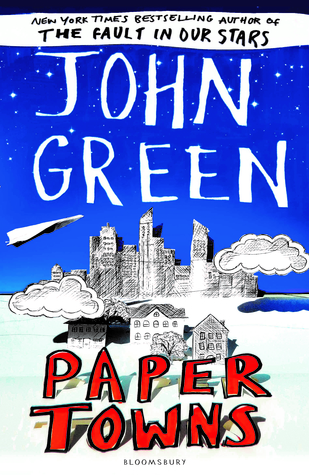 'The thing about Margo Roth Spiegelman is that all I could ever do was let her talk, and then when she stopped talking encourage her to go on, due to the facts that 1. I was incontestably in love with her, and 2. she was absolutely unprecedented in every way, and 3. she never really asked me any questions...'
Quentin Jacobson has always loved Margo from afar. So when she climbs through his window to summon him on an all-night road trip of revenge he cannot help but follow. But the next morning Q turns up at school and Margo doesn't. She's left clues to her disappearance, like a trail of breadcrumbs for Q to follow.
And everything leads to one unavoidable question:
Who is the real Margo?
What I Liked:
There is just something magical about John Green's style of writing. I can't quite put my finger on it, only that it manages to be witty, deep and utterly charming at the same time. I feel like no one would ever say the things he says the characters are saying, and yet, his writing still feels true. After I read 'The Fault In Our Stars', I really felt like I'd read a book written by a very talented author and this read reaffirmed that completely.

The characters were a nice mix. There were a lot more of them than in my previous John Green read, and I think that John Green handled that pretty well! He gave all of them a good amount of time, I don't think anyone got left out. I liked the chemistry between all of them, the changeable nature of them all. I had a bit of a soft spot for Radar, I thought he was great!

The plot-line was so good. I have always had a bit of an on-off relationship with Mystery stories, depending on how they are written. I loved this one! It had clues, it had a detective style layout (I loved the way the book was broken up into parts) and watching Quentin piece everything together in his head with a bit of help from his friends was a lot of fun!
What I Disliked:
Okay so firstly the end. I had a tiny bit of a problem with the abrupt ending of 'The Fault In Our Stars' but that was nothing compared to this one. I felt rather disappointed when I realised that all that build-up resulted in such a disappointing finish. I felt like the characters had gone on this huge journey, done a lot of things that endangered their friendships, lives and bank balances, only to find that when they got to the end they were happy to not receive too many answers for their troubles.
Although I thought John Green had a good mix of characters, and I did like a few of them, a lot of them did annoy me too. Was I meant to like Margo? Because I don't think I did. Quentin's obsession with finding her grated on me at times too. Why did Ben insist on calling every female a honeybunny for most of the book? As for Quentin's parents, don't even get me started. I felt like Green might have done this on purpose, but I still got so annoyed when they could not stop going on about how great they were as parents. And as they were both therapists, their psychology-related arguments became frustrating. Not cute.
Overall Conclusion:
There were some really awesome points to this book and as soon as I picked it up and read the first few chapters, I smiled at the obvious John Green stamp and knew I would enjoy it. A great, original plot-line that was at times very tense and I loved the mystery-solving elements. The characters were, as I say, a bit of a mix (some I loved, some I despised) but they were well-written and consistent. The most annoying part for me was the disappointing end.