Oh my word, I don't think I can properly express just how dumbstruck I am after reading this book. Why has it taken me so long to do so? I'm going to take weeks to recover from this read, maybe even months! As you might know, I'm entering it into the Monthly Motif challenge, as it's set in the Future which according to this motif's description, counts as an Alternate Reality!
SOURCE: Bought
TYPE: Paperback
TITLE: Cinder
AUTHOR: Marissa Meyer
SERIES: The Lunar Chronicles (#1)
PUBLISHER: Puffin
PAGES: 390
GENRE: Young Adult, Fantasy, Science Fiction, Romance, Retelling
RATING: 5/5 Stars
Blurb: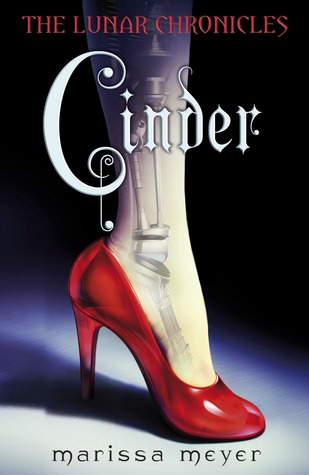 Cinder, a gifted mechanic in New Beijing, is also a Cyborg. She's reviled by her stepmother and blamed for her stepsister's sudden illness. But when her life becomes entwined with the handsome Prince Kai's she finds herself at the centre of a violent struggle between the desires of an evil queen - and a dangerous temptation.
Cinder is caught between duty and freedom, loyalty and betrayal. Now she must uncover secrets about her mysterious past in order to protect Earth's future.
What I Liked:
There is so much to write in this section I'm honestly struggling to find somewhere to start. I loved Cinder herself, she was an awesome heroine. She managed to maintain that perfect balance that I like between being emotionally vulnerable, having a slightly mysterious and sad back-story and still being strong and able to handle herself in a situation. She had a good sense of humour too. The characters she surrounds herself with are wonderful too. Kai is great and I really liked them as a couple, Iko is plain adorable, Levana is sizing up to be an intriguing villain and I liked Dr. Erland a lot too.

I liked the world that Meyer built. A lot of thought has obviously gone into it and it's pretty detailed in the way it works actually. It was well-written too so it was easy to envisage everything I was reading which really immersed me into the story. As well, I can tell that there's so much more to it that I've yet to read in the next books and I can't wait to get to know even more of how this Future Earth pans out, as well as finding out more about the Lunars!

I loved the way Meyer just took the story of Cinderella and completely made it her own! She wrote amazingly, the plot-line she devised paid a great homage to the original fairy tale while managing to feel completely original and like I was reading something new. Seriously, I can't state enough how good a retelling this is!
What I Disliked:
To be honest, there was only one thing I disliked about this read. That ridiculously cruel cliff-hanger at the end. I was totally hooked and so badly want to read the next one right now and find out what happens, but I can't and it's torture! Seriously, why would Meyer do this to me?!
Overall Conclusion:
This book just had everything I look for in a good story, and I'm completely hooked on the series now. Mind-blowing characters, world and writing from an extremely talented author who has strongly planted herself as one of my favourites just from reading this book. I can't wait to read 'Scarlet', want to get hold of 'Cress' as soon as possible and think that I might have a tantrum about the fact that I have to wait so long for 'Winter'.