Goodness me, I had a bit of a lapse while reading this one! It took me a while because I've been pretty ill while reading it, but I finally got to make some decent progress towards the end of the week and it's done. I feel very mixed about this book!
SOURCE: Netgalley
TYPE: E-Read
TITLE: A Discovery Of Witches
AUTHOR: Deborah Harkness
SERIES: All Souls Trilogy (#1)
PUBLISHER: Penguin
PAGES: 581
GENRE: Urban Fantasy, Paranormal Romance, Magical Realism, Adult
RATING: 3/5 Stars
Blurb: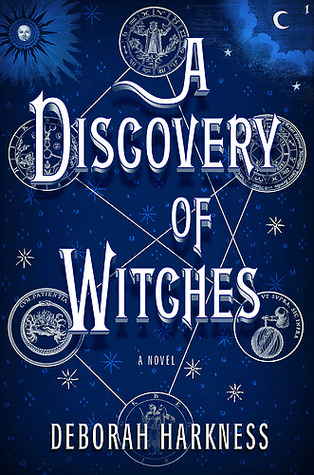 Deep in the stacks of Oxford's Bodleian Library, young scholar Diana Bishop unwittingly calls up a bewitched alchemical manuscript in the course of her research. Descended from an old and distinguished line of witches, Diana wants nothing to do with sorcery; so after a furtive glance and a few notes, she banishes the book to the stacks. But her discovery sets a fantastical underworld stirring, and a horde of daemons, witches, and vampires soon descends upon the library. Diana has stumbled upon a coveted treasure lost for centuries-and she is the only creature who can break its spell.
What I Liked:
The world building in this novel is immense. Harkness has put a lot of time and effort into creating a world where humans and magical creatures co-exist. She combines an extremely deep and knowledge-filled historical context, with an inventive use of the modern world. It felt complex and I really loved learning about it (and there is a lot to learn).

I did also really love the romantic element to this book too. 'Twilight' was my last Vampiric love-story and it pretty much put me off of them. That is, until I read this. The romance builds well and you actually feel like they're falling in love at a fairly reasonable rate. Our vampiric male, Matthew, is clingy and a little over-protective but Harkness explains why that is (rather than just making him sound creepy) and Diana learns to put him in his place rather than let herself be walked all over. Their relationship is complicated, and frustrating at times but I really rooted for them and it was lovely to read.
What I Disliked:
My main issue with this book was that it just felt like it took a little too much time to get to the point. It was a slow-starter, and while I warmed to it as time went on, I felt like there was a lot of info-dumping and unnecessary sub-plots to trawl through to get to the crux of the issue. It helped to build up the world and the situation, but this is not a quick read.

The plot felt chaotic at times too, as if too much was going on at once and some key issues felt a little confusing and not very well thought-out. For example, if Diana really refused to have magic in her life then she would not have used it just to fix a washing machine. And how is it that our couple can 'timewalk' back to a point and essentially replace themselves (they made sure to do the same things they did before), and yet they are worried about running into past selves when they decide to go even further back. Please tell me if I have missed something here, but these were the impressions I got when reading.
I really disliked Diana to begin with. I suppose I liked her more as I delved further into the book, but it meant that the first part of the book dragged for me because I just didn't empathise with her at all. I found her pretty rude and irritating to be honest. I wish she had been likeable from the beginning, I would probably have got through the book a lot quicker.
Overall Conclusion:
So as you can see, I had some really mixed feelings about this book. At times I was totally hooked, at others it almost became an abandoned book. Yet despite it's flaws, I would be really intrigued to read the next one! Maybe not right away, but I would love to finally get to see where this book is going because at the moment so much is going on that I have no real idea what the true 'quest' actually is. There were some gorgeous parts to this book though and Harkness writes pretty well. If you like strong world-building then this book is definitely for you!