Hooray, I finally finished this book! Why on earth has it taken me so long to get through it? Seriously. Nine days? I'm totally shocked at myself. Nevertheless, I won't dwell on it. I've been pretty busy! No challenges for this one, just a review!
SOURCE: Bought
TYPE: Paperback
TITLE: Life Of Pi
AUTHOR: Yann Martel
SERIES: --
PUBLISHER: Canongate Books
PAGES: 319
GENRE: Young Adult, Contemporary, Adventure
RATING: 4/5 Stars
Blurb: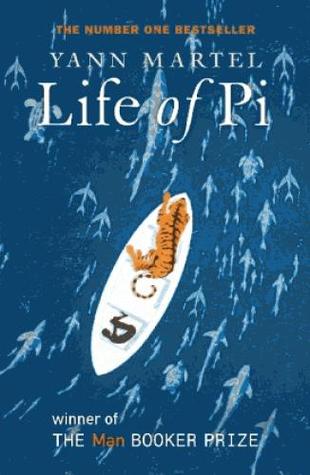 One boy, one boat, one tiger...
After the tragic sinking of a cargo ship, a solitary lifeboat remains bobbing on the wild, blue Pacific. The only survivors from the wreck are a sixteen year-old boy named Pi, a hyena, a zebra (with a broken leg), a female orangutan and a 450-pound Royal Bengal tiger. The scene is set for one of the most extraordinary and best-loved works of fiction in recent years.
What I Liked:
My first thought, and one that stuck with me throughout this read, was that Yann Martel writes beautifully. He has a real knack for knowing exactly the perfect imagery to use, so that I can instantly see the stunning Pondicherry Zoo in my minds eye, or hear the endless sound of waves running along the vast expanse of ocean. Not only did his writing spark the imagination, it was well-researched, informative, and deeply philosophical at the same time. I certainly learnt a few things while reading, both factually and spiritually.

The plot concept is a really good one. Just the idea of being stuck in the middle of the ocean, with a huge great tiger, totally stranded is frightening. And yet, it is also a really intriguing story-line at the same time. I have actually seen the film so had a pretty basic overview on what I was going to read, but it still surprised me in so many ways.
What I Disliked:
I did have a couple of things I didn't like. Namely, the ending. It wasn't a really bad way to end, it just felt a little anti-climatic after waiting for it to happen. I did love the final scene with Richard Parker though. It totally summed up the book's message for me.

I also didn't find myself totally attached to the more emotional aspects of the story. Pi goes through a pretty harrowing experience, and I felt like I should feel more upset and sympathetic than I was. I felt more like a neutral observer, rather than totally drawn into the Pi's journey.
Overall Conclusion:
There were so many interesting aspects to this book and I loved the story. As I've said, Martel's writing is absolutely gorgeous and I would happily experience another of his books to get more of it. It's worth a read just for that alone! I really felt like I learnt something from this book and it's an experience I haven't had for a while. The ending didn't totally satisfy me, and I wish I had been a little more emotionally attached to the characters, but to be honest those things didn't bother me too much because everything else was just so good!