Another book bites the dust! The Beat The Heat Readathon I'm currently participating in is really helping me to make time for a bit each day, meaning I did manage to get through this book relatively quickly. It's a good thing too because I have so much I want to talk about!
SOURCE: Netgalley
TYPE: E-Read
TITLE: Smiler's Fair
AUTHOR: Rebecca Levene
SERIES: The Hollow Gods (#1)
PUBLISHER: Hodderscape
PAGES: 416
GENRE: Adult, Fantasy, Adventure
RATING: 4/5 Stars
Blurb: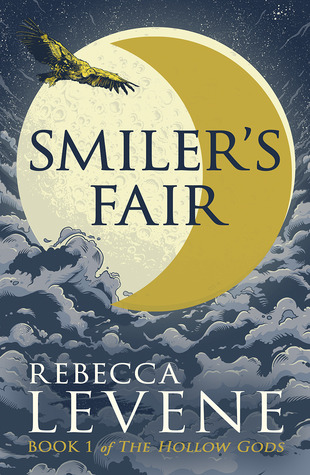 Yron the moon god died, but now he's reborn in the false king's son. His human father wanted to kill him, but his mother sacrificed her life to save him. He'll return one day to claim his birthright. He'll change your life.
He'll change everything.
Smiler's Fair: the great moving carnival where any pleasure can be had, if you're willing to pay the price. They say all paths cross at Smiler's Fair. They say it'll change your life. For five people, Smiler's Fair will change everything.
In a land where unimaginable horror lurks in the shadows, where the very sun and moon are at war, five people - Nethmi, the orphaned daughter of a murdered nobleman, who in desperation commits an act that will haunt her forever. Dae Hyo, the skilled warrior, who discovers that a lifetime of bravery cannot make up for a single mistake. Eric, who follows his heart only to find that love exacts a terrible price. Marvan, the master swordsman, who takes more pleasure from killing than he should. And Krish, the humble goatherd, with a destiny he hardly understands and can never accept - will discover just how much Smiler's Fair changes everything.
What I Liked:
The story itself was just amazing! Rebecca Levene is a fantastic and very talented writer, I was totally hooked on this book and couldn't get enough of it! In fact, I wanted to cry a bit when it was over because I figure I'll be waiting a good while for the next one. I loved the way Levene structured her story, it was easy to follow and had me smiling from start to finish.

I'm a big fan of good world-building and this first installment to the series certainly had that. There were so many amazing sounding creatures, places and events that I got quite lost in Levene's world. Smiler's Fair itself was my favourite place to read about and I'm so glad of it's inclusion in the story.

I liked all of the characters, they were each unique and recognisable from the others. I had a real soft spot for Eric, his story-line for me was the most heart-wrenching and interesting to follow. This isn't only because I'm a sucker for cute couples, it was just really nice to see such a twist on the usual love story. I can't wait to see where his story leads, I think his was my favourite of all of them.
What I Disliked:
The only real annoyance I had was that the book was told from multiple viewpoints, and there were just a few too many of those. At the beginning, it made names confusing, especially as viewpoints would shift within chapters. It also meant that characters I deemed more important to the story didn't get quite as much character or motive development as I would have liked, in favour of a few pages talking from the POV of another character unnecessarily.
Overall Conclusion:
This book is definitely set to become a fantastic Fantasy series. It has great characters, a well-built world that is interesting and unusual, fantastic writing and a romance to root for on top. My problem was that I felt there were too many voices and as a result, the story progressed far more quickly than I would have liked. Some characters made some very surprising changes without much explanation and I felt like a couple of sub-plots were unnecessary. Nevertheless, a strong conclusion leads me to wanting to read more of this series! Bring on book two!