Goodness gracious, ten days? It really took me that long to read this book? I shall have to do much better than that in the future, I have been very busy over the course of this month! Still: I've finished and am eager to share my thoughts! I'm entering this book into the Monthly Motif challenge too, there's certainly a mystery to be solved in this one!
SOURCE: Netgalley
TYPE: E-Read
TITLE: Cuckoo Song
AUTHOR: Frances Hardinge
SERIES: --
PUBLISHER: Pan Macmillan
PAGES: 416
GENRE: Horror, Young Adult, Mystery, Fantasy
RATING: 4/5 Stars
Blurb: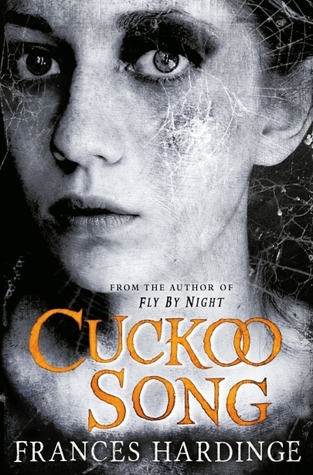 When Triss wakes up after an accident, she knows that something is very wrong. She is insatiably hungry; her sister seems scared of her and her parents whisper behind closed doors. She looks through her diary to try to remember, but the pages have been ripped out.
Soon Triss discovers that what happened to her is more strange and terrible than she could ever have imagined, and that she is quite literally not herself. In a quest to find the truth she must travel into the terrifying Underbelly of the city to meet a twisted architect who has dark designs on her family - before it's too late...
What I Liked:
Hardinge's imagination is extraordinary! She came up with a pretty unique concept in this book and I found myself completely sucked into the creepy world that she wrote, particularly the details about Triss' condition. Some moments literally had me recoiling in horror! It was full of many twists and turns, unexpected rules that were consistent and nicely devised and the context of the era that the book is set in was really well researched. I have a big thing about Authors doing research before writing in certain time periods or on particular subjects and I found that Hardinge had done a great job!

The characters were really well-written. All were complex, likeable and really sucked you in to their personal tragedies. I liked Triss as a main character. I found her to be likeable and as complex and scared as I expected someone in her given situation to be. But more to the point, I watched her character develop throughout the book and really liked the subtle changes. There was a certain irony (those that read the book will understand) in that as the story goes on, she seems to become more of her own person and less 'fake'.

I was a really big fan of the relationship development in this story. As Triss sets off on her journey, she encounters characters who you might not expect to become her allies. It was really nice to see the way that Hardinge built those individual relationships, no characters felt unimportant or forgotten. She gave each ample attention which was something that I really enjoyed.
What I Disliked:
I had one small gripe about the pacing of the book. There were times when it did feel a little slow and this meant that I took frequent breaks from reading it. I wanted the twists and turns to come a little faster than they did, but then I fear that we may have lost some of the development that we see in various characters throughout the book. Still, I knocked off a star because this clunky pacing did make the end feel a little anti-climactic after such a build-up.
Overall Conclusion:
So wow, I was blown away by this book. Perhaps it was a bit slow at times but I loved the world that Hardinge built, the characters she wrote and it was nice to see a good amount of development over time. There were so many great moments and Hardinge shows here that she is a very good horror and fantasy writer. Her ideas were very creative and some of the horror found within was pretty disturbing and certainly succeeded in giving the book a creepy tone. I would love to read more of Hardinge's stuff, an exceptional talent!